Command Center
Reveal your park's potential
Just because your park is full of rollercoasters, doesn't mean that running it has to feel like one. Plan, predict and perfect your park operations with Command-Center's intuitive software.
Make your park safer and more efficient
Bring an end to paper-pushing by digitising your staff training processes. More time on the ground training your staff, means your park is smarter and safer.
Collect data that improves your park performance
Get accurate park insights that maximise your performance and profit and tell you instantly where you need to improve. No lengthy data collation delays or guesswork.
Unlock greater capacity from your existing rides
Discover the power of Cmd-Ctr to get more rides from your current attractions, saving you money and a whole heap of planning.
Enable your managers
Empower your Operations Managers to make faster, more informed decisions based on what's actually happening in your park. Quicker response times, means happier customers and higher profits.
Give yourself complete control of your park operations with proven theme park technology 
"My advice would be for everybody to get the app. It's made such a huge difference. I knew it was going to be good but I didn't know it was going to be this good, and this good this quickly!"
Karen Glassey
Operations Director, LEGOLAND® Windsor Resort
"Command Centre has given the park operations management team a lot of time back. My team's time is now spent managing the park and managing the people instead of moving paper around the office."
James Mancey
Operations Director, Paultons Park
Cmd-Ctr's collection of Apps will streamline your park operations and give you back that time to focus on your guest experience.
Each app is designed specifically to cater for park operations use cases and together, combine to create a single platform that puts you at the centre and in command of your park's data and processes.
Administration portal
A central cloud-based app for management, review and audit. Manage your team, training, rides and operation rules, review live data dashboards and store it securely for reporting and quick-access audit.
Training app
Recording group training sessions at the point of delivery, Cmd-Ctr's Training App will save you from an agonising paper trail.
Ride app
Stationed at each ride, Cmd-Ctr's Ride app connects your ride operators to collect data at the source, without the barriers of complex interfaces. Resilient, easy to use and loved by its users.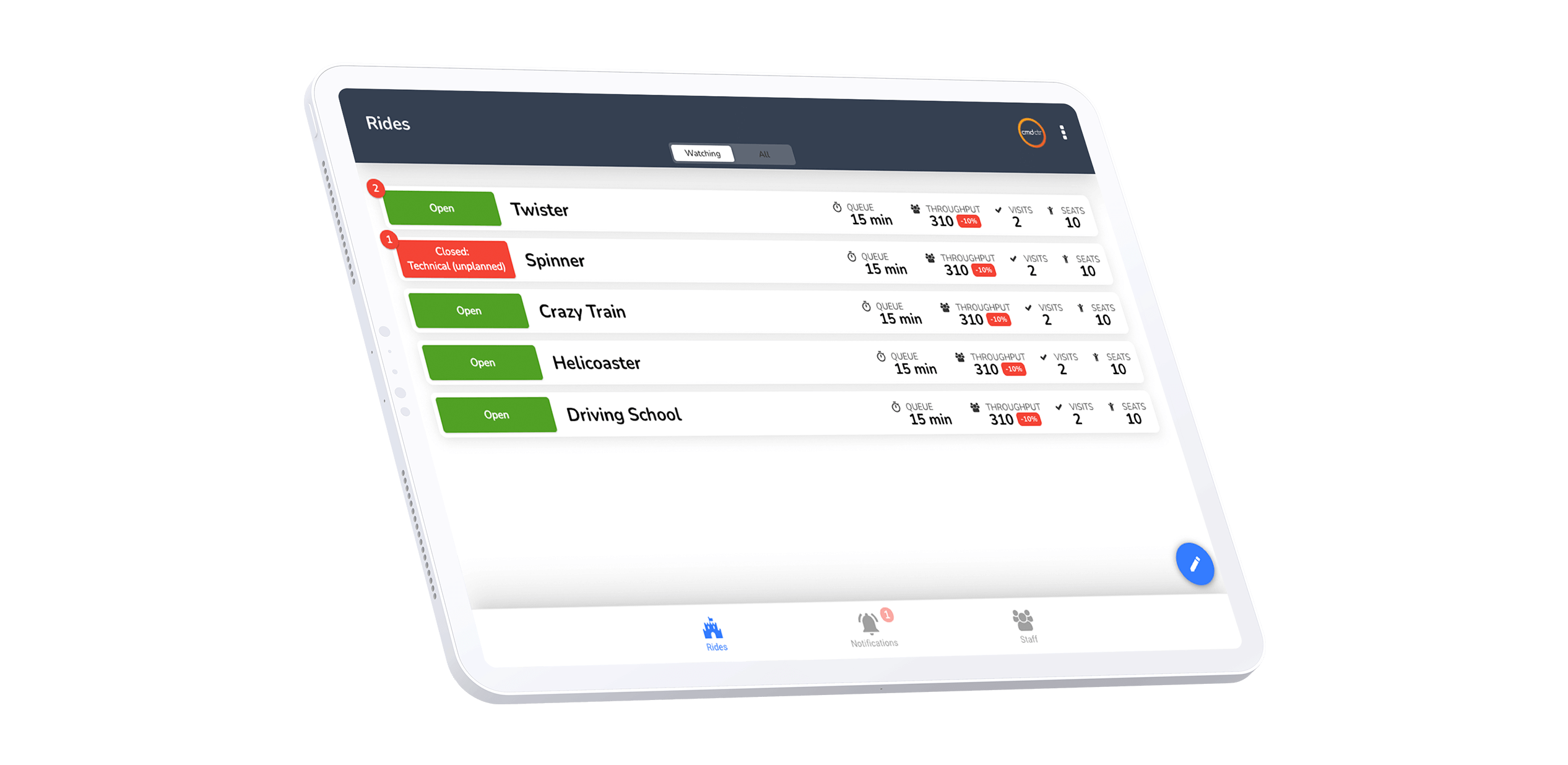 Monitoring app
A connected, portable app for managers to access live data and notifications. Cmd-Ctr's Monitoring App helps managers better serve their team and continually identify operational efficiency opportunities.